At VSC each course focuses on developing your oral communication skills. Each level is composed of specific topics to guarantee that you have time to process and retain the information. Our classes are dynamic and boredom is not an option! Every class has varied activities to keep you engaged and motivated.
Class Size: Small groups offer the perfect environment for learning. You can learn and practice through fun activities in groups and pairs, and also receive personalized attention from the instructor. Learn with and from others in the comfortable environment of a small group. With a maximum of eight students per class and an average of six you receive top quality one-on-one and small-group instruction.
Curriculum: Our curriculum, materials and textbooks follow the Common European Framework of Reference for Languages (CEFR). We offer four main levels, each one divided into two or three well-paced sub-levels. Our courses cover levels A1 and A2 (Basic user), and B1 and B2 (Independent user) of the CEFR. Higher levels may be offered if there is enough interest.
Upon completion of levels A1 and A2, you will be able to communicate comfortably in everyday situations, talk about the present, past and future and engage in conversations. You will have acquired all the tools necessary for traveling, meeting new people and feeling comfortable when speaking in Spanish.
CERF Level
CVS Level
A1
Starter
Beginner
Beginner+
A2
Pre-intermediate
Intermediate
Intermediate+
B1
Superior
Superior+
B2
Advanced
Advanced+
To learn more about the Common European Framework of Reference click here
Check out our upcoming classes or register for a class
Commit to learn and save. We will be trying a new program in the spring. If you give us feedback and attend most classes, you can receive money back. Details coming below.
SUMMER 2017 SCHEDULE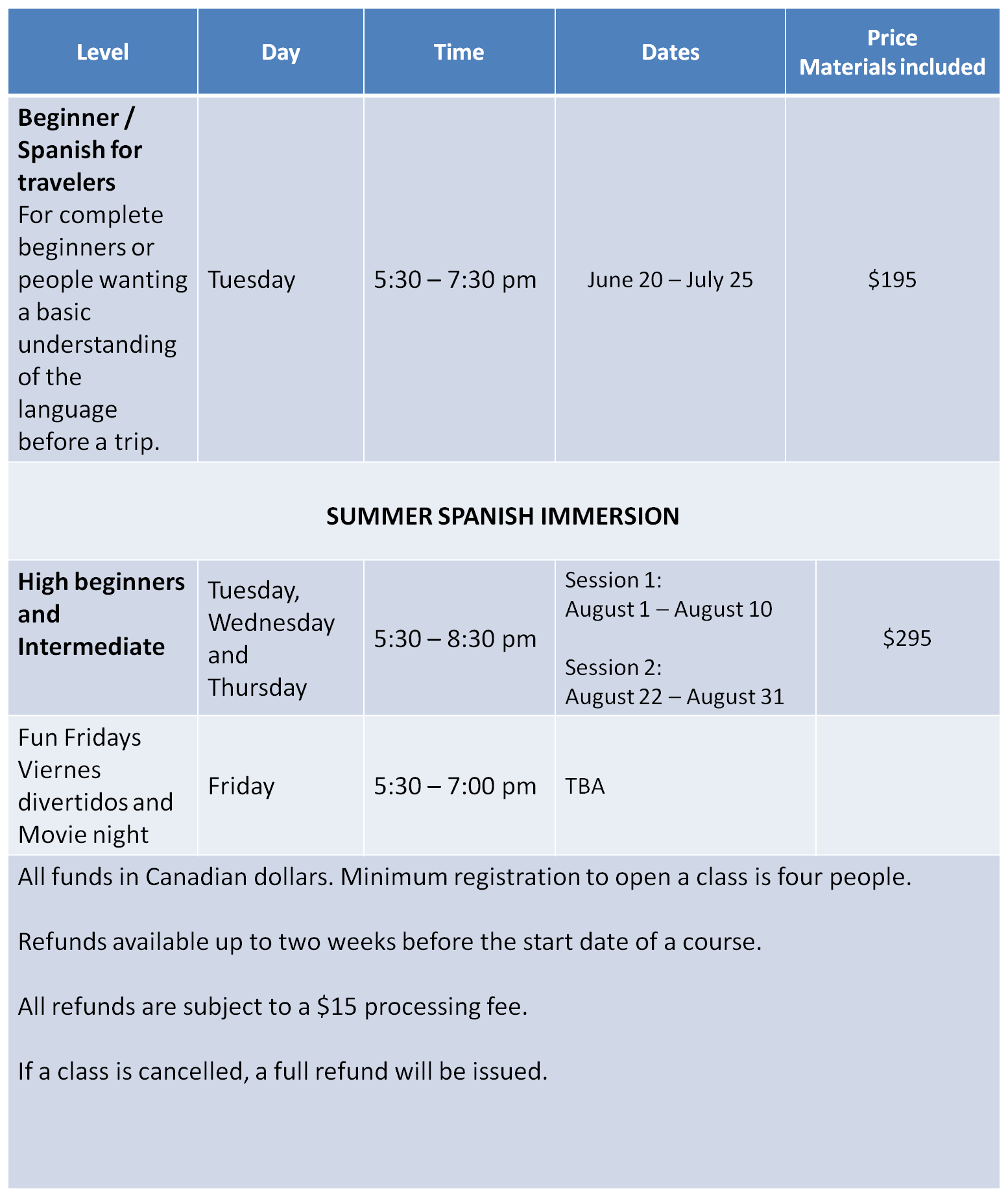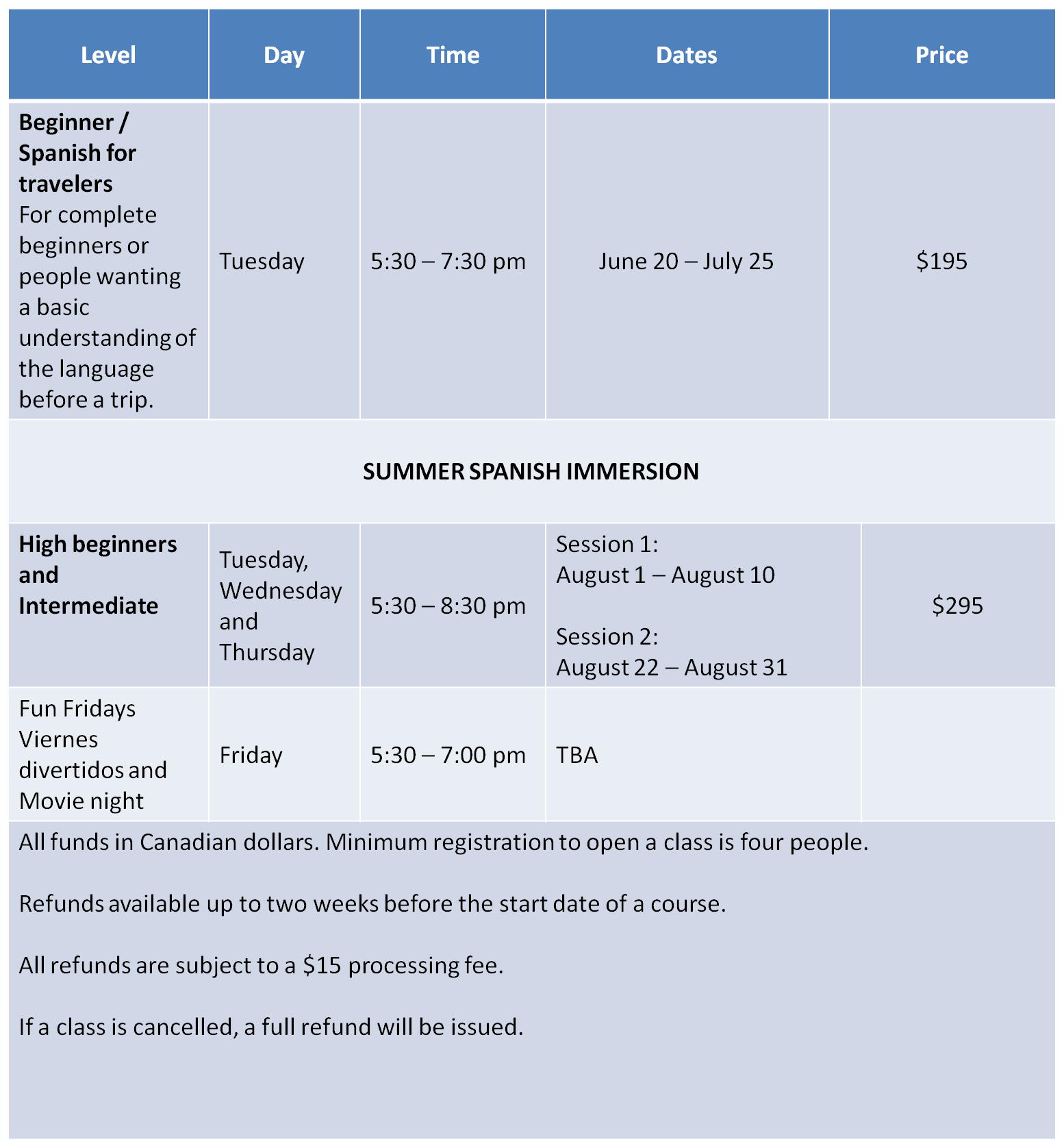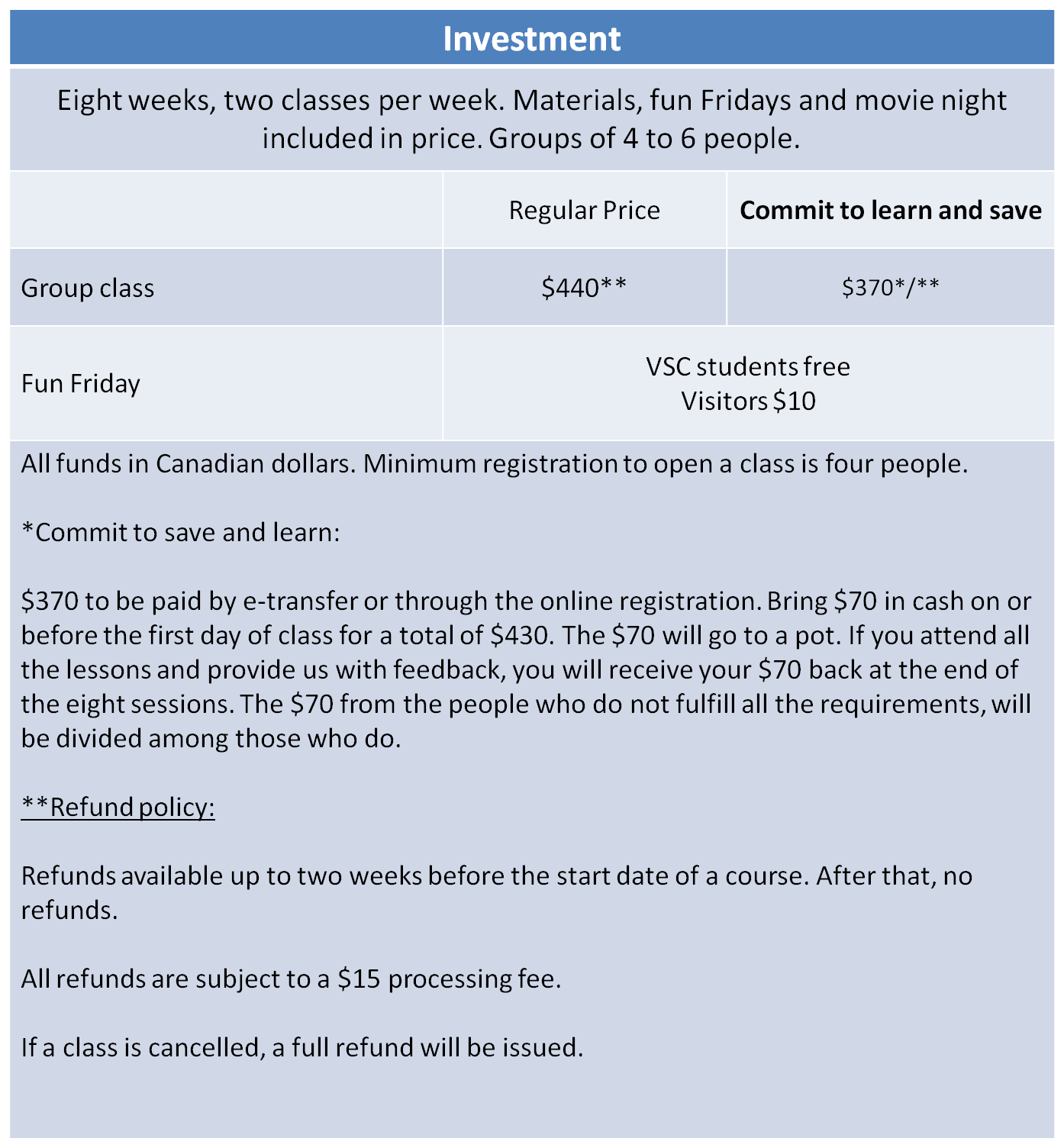 Register with interact e-transfer (email info@victoriaspanish.com) or in person.
'Commit to learn and save' terms and conditions.
To receive your $70 back you must:
Attend 80% of lessons (13 out of 16). No exceptions.
Attend three of the four Fun Fridays
Fill out feedback forms
Not miss two classes in a row
Pay with cash, cheque or e-transfer
Bring a smile and a happy spirit

At VCS we believe that learning continues outside the classroom and we are committed to helping to do that. That is why we have extra classes for you to take and some of them are free. Currently we offer  the Conversation Café and Spanish Through Music classes.
The Spanish Café is open to everyone and it provides an opportunity to meet new people and practice in a fun and relaxed environment. Come for a cup of coffee and practice your Spanish. This class is free for those enrolled in any course.
Spanish through music:  This class takes you to different parts of the Spanish world through the sounds of music. The aim of this course is to help you improve pronunciation, intonation and vocabulary and learn about aspects of the Spanish culture like the singers and their backgrounds.
Customized programs.
Are you having a destination wedding?
Are you going away with some friends for a Central American adventure?
We will design a special course for you and your wedding party or friends.
We apologize for the inconvenience. Private lessons at the Centre are currently unavailable, but we can refer an instructor who might be available to teach you.
Do you have specific needs that you would like to work on?
Do you prefer individualized learning?
Would you like to learn Spanish with a friend?
Then one-on-one or semi private lessons are perfect for you. Receive customized instruction that focuses on the areas you want to improve. Vocabulary, pronunciation, grammar, speaking.  It's your choice.
One-on-one packages
Number of sessions
Price
One-on-One
Semi private (Two people)
Introductory class 2 sessions*
$50
$65
1 to 5 sessions
$40 per session
$45 per session
10 sessions
$350
$415    Register
Each session is 60 minutes long. All funds in Canadian dollars. No refunds.

*Must be used within two weeks.24-hour notice required for cancellation of a scheduled appointment.